This article is written for Telephone, which is a free application available through the OSX App Store. Install the application first!


Step 1: Gather information for each user.
Each user has a set of credentials which will be needed to configure each phone. For each phone that you are configuring, obtain the following:
SIP Username/Extension
SIP Password
Domain


Step 2: Configure your Telephone software settings.
When you first load up Telephone you'll be informed there is no account information and provided a link to set up your account. On subsequent attempts to set up the software, you will need to select Telephone->Preferences.
Enter the following information from Step 1 above:
Full Name > Whatever you would like
Domain > sip1.magnavoip.com
Username > Your username in 0123*456 format

Password > Your SIP Password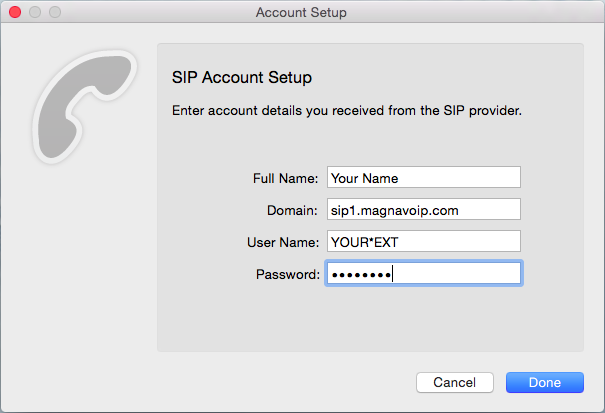 Step 3. Confirm that your phone is registered.
Once registered, Telephone will report "Available" in the top-left hand side. Otherwise, it will prompt Unavailable, and may ask for your username and password again.
Additionally, inside the MagnaVoIP User portal, it will list your extension as "State: Registered" if it is working successfully.
You should now be able to place and receive calls!




Usage Notes
Call handling is available via the "Call" menu, or through these hot keys:


To transfer, during a call hit "t" and you'll be prompted for the target of the transfer. The only transfer option as of this time is blind transfer. You cannot do attended transfers but that feature should be forthcoming.
To place a call on hold, hit "h", to remove from hold, hit "h" again.
To mute a call, hit "m" and to resume, hit "m" again.
Touch Tones - DTMF is RFC2833 by default so you don't have to do anything to get it functioning. Use the number keys on your keyboard and you can navigate.
Address Book - Telephone also integrates with your Mac's address book. To dial from the address book, the phone number field will require 1-NXX-NXX-XXXX format so you will most likely need to edit the phone numbers. You can also right click to call from your Address Book.